About Nebraska Dentistry and
Oral Surgery for Animals
Our mission will always be to restore your pet's mouth to pain-free and functional.  We do this through client education, frequent cleanings, advanced imaging and gold-standard dentistry and surgery.
Unlike human dentistry, veterinary dentistry is always performed under general anesthesia. This allows a clean, secure airway to be maintained at all times, prevents aspiration pneumonia, allows the operator to clean subgingivally, and perform other tasks that cannot be done correctly in an awake or twilight sedated patient. Pre-anesthetic physical exams and recent laboratory blood testing is usually required prior to the procedure.
Our licensed veterinary technicians can also be considered our pet dental "hygienists", as they have additional training and expertise in veterinary dentistry, oral surgery, and anesthesia. Just like at your dentist's office, they are often times responsible for cleaning and polishing the teeth in preparation for the COHAT (comprehensive oral health assesment and treatment). Technicians also take the dental xrays and monitor vital parameters.
While most pet owners arrange an appointment as a drop-off, where they continue on to work or their other daily activities, you are always welcome to wait in our lobby during your pet's procedure. It is critical that we can contact you DURING the procedure (usually by phone) so that our veterinary dentists can discuss his findings and treatment plan. Whenever possible, all problems will be addressed on one visit, minimizing anesthesia. Some oral health issues by their very nature require extensive follow up, multiple rechecks, and multiple visits under general anesthesia. We will inform you of your options and cost estimates at the initial exam. Treatment plans frequently change once the anesthetized exam and radiographs (x-rays) are taken.
Erich Rachwitz, DVM, DAVDC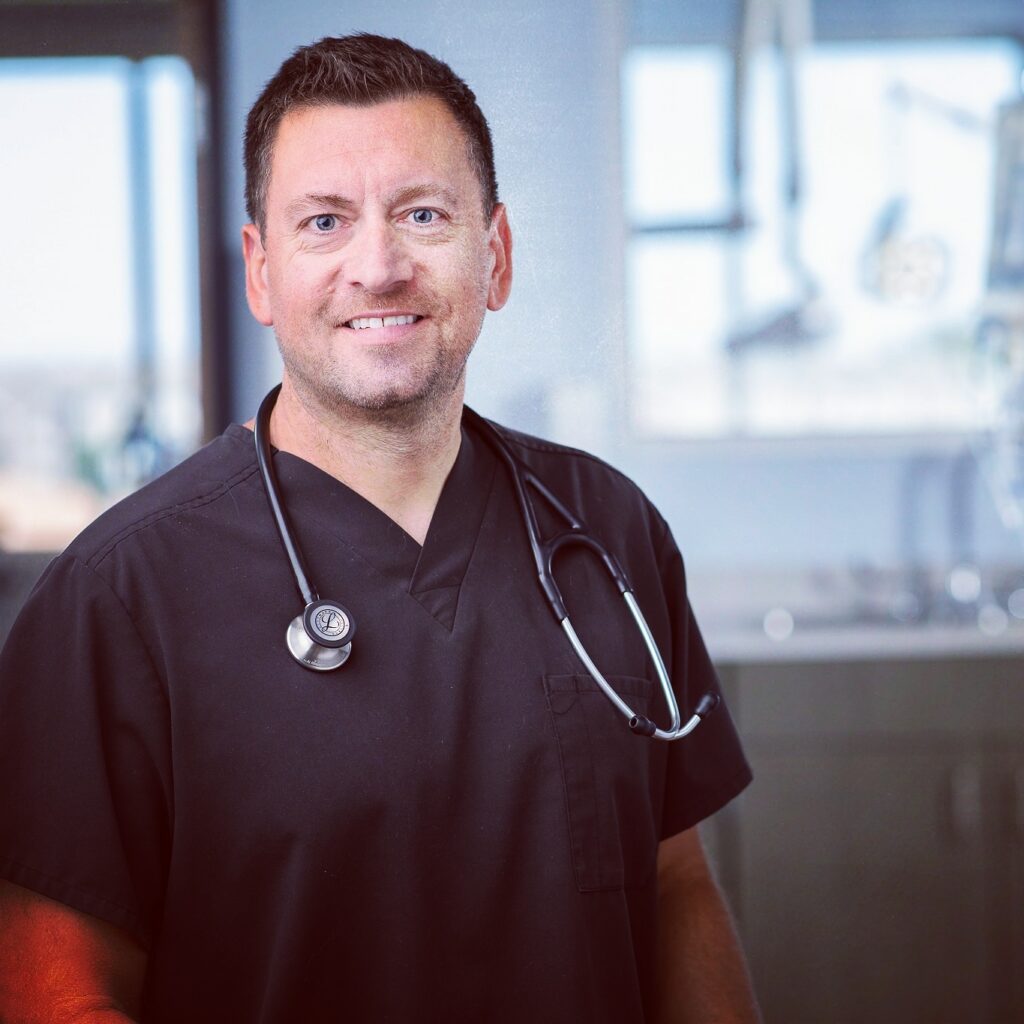 Erich was born and raised in Bellevue, Nebraska. He received his B.S. in biology from the University of Nebraska in 1996 and his D.V.M. from Kansas State University in 2001. He owned and operated Twin Creek Animal Hospital, a four-doctor general practice in Bellevue until 2021. He opened Nebraska Dentistry and Oral Surgery for Animals, also in Omaha, in 2021. He became a Diplomate of the American Veterinary Dental College in 2021.
Erich has a passion for veterinary dental education and service to the community. He is a past treasurer of the Foundation for Veterinary Dentistry and an active committee member for the American Veterinary Dental College. He is a pro bono veterinary dentist for numerous law enforcement agencies throughout the Midwest as well as Omaha's Henry Doorly Zoo. He hosts Iowa State University senior veterinary students for externships in dentistry throughout the year. He hosts continuing education courses for veterinarians and when time allows, participates as guest lecturer for veterinary CE conferences. When not working, he enjoys anything outdoors, particularly hiking and spending time with his kids.
Raised on a farm and ranch in southern New Mexico, Dr. Laas studied animal science at New Mexico State University. He earned his doctorate of veterinary medicine from the Texas A&M College of Veterinary Medicine in May 2005.
After completing a rotating small animal medicine and surgery internship at the University of Georgia Veterinary Teaching Hospital, Dr. Laas developed a special interest in diagnostic imaging. He remained at the University of Georgia for a three year radiology residency and received the house officer award his final year. Dr. Laas became a diplomate of the America College of Veterinary Radiology in 2009.
For the two years following his residency, Dr. Laas worked in a busy multidisciplinary specialty hospital in south Texas. From 2011-2016, Dr. Laas co-owned a veterinary practice in Colorado Springs, provided traveling imaging services to local veterinarians and consulted with local emergency/specialty hospitals.
In order to be closer to family, Dr. Laas moved back to the Athens area in 2016. Currently Dr. Laas provides on line imaging consultations, outpatient ultrasound services at regional partner hospitals, and is a consulting specialist in diagnostic imaging for the University of Georgia Veterinary Teaching Hospital.
Dr. Laas lives on a small farm with his wife, children, flock of sheep, too many chickens, two donkeys, and a dog. In his spare time he coaches his kids' soccer teams, enjoys family projects on the farm, plays soccer, and trains in Olympic weightlifting.